"No one is free, even the birds are chained to the sky." Bob Dylan said this probably not knowing its profound connection with George Orwell's novel "1984", but the as well could be in "1984". Orwell depicts a totalitarian dystopian world where there is no freedom and citizens are being brainwashed constantly. Without any sense of individual fairness, people work for the party just like the gear wheels in a machine. In order to achieve this, the politicians in "1984" suppress people's thinking and eliminate their freedom by creating fear through propaganda, strict laws and incessant surveillances.
In "1984", lies, myths and false information controls the thinking of the citizens. The Party uses propaganda as the deadliest weapon of control. Propaganda increases the citizens' morale and makes them think that what the party tells them to do is always right. There are mainly two types of propaganda, one changes truth, so-called doublethink, and another creates fear. "Doublespeak" can be seen frequently in the world of 1984. The party's big slogan "WAR IS PEACE. FREEDOM IS SLAVERY. IGNORANCE IS STRENGTH." (George Orwell, 4) is an good example. The idea of the slogan is to convince the citizens that what they want, is what they already have. Only war can make peace and harmony, so peace is no longer peace, it becomes war; anyone who is slaved and wants freedom, he already has freedom; you can only strengthen yourself by not knowing things and being ignorant. The slogan changes truth and make the citizens believe that anything they want other than what their government wants can only make them unhappy, therefore, no one will consider rebellion because they believe the Party's way of governing is the best and only way. "BIG BROTHER IS WATCHING YOU" (George Orwell, 3) is another core slogan. It is nearly everywhere in the country and usually presented beneath the picture of Big Brother on a poster. It creates fear of obliterated privacy among citizens by alerting them that they are watched all the time. At the same time, the slogan also emphasizes Big Brother's power to tells the citizens that they are indeed safe and protected. The party uses this to make them believe that within the party nothing can go wrong, and without Big Brother they will not have such lives. Everyone thinks he is safe in Oceania because of the Big Brother, but they are in fact in danger, all the time.
         The laws is another powerful tool for politicians in "1984" to limit citizens freedom. No parties, no dates, no love, no citizens walk on street after curfew, laws are everywhere in Oceania. Although these are strictly implemented, they cannot be called laws theoretically because they are not written in a system. There is no written laws in 1984, there is no such thing as constitution or court, but that is exactly how fear is created, as citizens are always living in uncertainty. For example, "And yet it was a fact that if Syme grasped, even for three seconds, the nature of his, Winston's, secret opinions, he would betray him instantly to the Thought Police" (George Orwell, 30). There is no law that defines thoughtcrime However, Winston could be arrested any time for committing thoughtcrime by even a tiny facial twitch suggesting struggle, and his nervous system literally becomes his biggest enemy. Since there is no written law, the Party can change and adjust the strictness of laws freely as it wants, citizens never know if they have committed any crime, therefore no one is brave enough to defy the Party by any level, so fear is created. In addition, "Newspeak" is another law that is enforced to solidify the Party's control. Humans use language to express their ideas, by eliminating words and replacing emotional words such as "excellent", "wonderful" and "fantastic" by a single word "good" and its comparative degrees "plusgood" and "plusplusgood". Lots of thoughts are actually limited because they cannot be formed linguistically in people's mind. Citizens then cannot have their own critical thinking, and only do what they are told to do, they work just as computers, which surprisingly only have two words.*
         Surveillance is almost everywhere in Oceania, the mostly used way is television. There is a two-way screen, so-called television in every apartment and on street but they only serve the purpose of monitoring and propaganda, the Party gets simultaneous image of what its people are doing. Even facial expression can be detected. Only senior members of the Inner Party have the power to turn them off for a short period. Children are also used to keep track of their parents, "The children, on the other hand, were systematically turned against their parents and taught to spy on them and report their deviations" (76). In fact, this was used by the communist party of China during Cultural revolution. With extremely mighty surveillance, citizens cannot express their ideas towards the negative side of the Party at all, and even thoughts are controlled because the Party can "reeducate" people for an incorrect facial expression
         By using language as a tool of control as well as the evidence for sentence, Orwell creates a world where language, a word or a sentence, can determine ones life. Through language plays the key role in the Party's propaganda, strict laws and surveillance, total physical control as well as phycological manipulation is achieved. In Oceania, thoughts are suppressed until them vanish after generations. In this world, nothing is free, even a bird.
*0 and 1, Binary numeral system
Bibliography: Orwell, George. 1984. San Diego: Harcourt Brace Jovanovich, 1984. Print.
This entry was posted in Uncategorized by paulechoisland. Bookmark the permalink.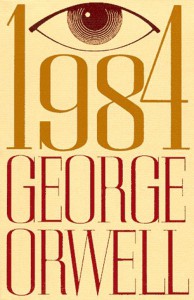 "1984" is a novel about totalitarianism and the fate of a single man who tried to escape from an overwhelming political regime. The book was written by the British writer and journalist George Orwell in 1948 and had the Soviet Union as a prototype of the social structure described in it.
Events in the book take place in London, a capital of Airstrip One, which is a province of the state of Oceania. The year is 1984, and the world is engaged in an endless omnipresent war. The political regime called Ingsoc (a misspelled abbreviation for English Socialism) constantly seeks out ways to control the minds and private lives of its citizens. The regime is run by the Party, headed by a half mythical Big Brother. The main protagonist of the novel is Winston Smith, an editor in the Ministry of Truth, which is responsible for propaganda. He has doubts about imposed dogmas that are shared by the majority, and at heart, he hates the Party and the Big Brother.
Winston buys a thick notebook where he writes down his thoughts about the reality that surrounds him. In his world, each step of the individual is controlled by the Thought Police, whose main function is to punish people who think differently from what is contained in the official propaganda. Everyone reports on each other, and even children are taught and encouraged to denounce their parents. Winston knows he commits a crime when he denies the Party's slogan: "War is Peace. Slavery is Freedom. Ignorance is Strength," but still he writes in his diary: "Down with the Big Brother."
At work, Winston recalls recent "Two Minutes Hate" periods of time, when all Party members must gather in special rooms where they watch a short film about Emmanuel Goldstein, the former leader of the Party, who betrayed it and organized the underground movement called the Brotherhood. People are obliged to express hatred towards Goldstein's image on the screen. During one of these periods, Winston fixates on O'Brien—a member of the most powerful Inner Party. For some reason, Winston imagines that O'Brien could be one of the leaders of the Brotherhood. He wants to talk to him, and he even has a dream in which O'Brien's voice says: "We shall meet at the place where there is no darkness."
After the Two Minutes Hate, he received a note from a girl named Julia that reads "I love you." Julia is a member of the Anti-Sex League, so at first, Winston treats her with mistrust, and he even considers her to be a member of the Thought Police. However, she manages to prove to him that she hates the Party too and they start a love affair. It brings Winston to the thought that they are both doomed, because free romantic relationships between a man and a woman are prohibited. Julia is more optimistic about their situation, because she simply lives in the present moment and does not think about the future. They meet in an old second-hand shop in the Prols' district—a place where people who have not yet joined the Party life. They seem to be more free and light-hearted than the rest of Airstrip's One population.
Eventually, Winston and Julia get arrested. They are held separately, tortured, and interrogated. Winston is beaten by jailers and he is forced to confess to various crimes, legitimate and fictional. But still, the physical pain is nothing for him compared to the shock that he experiences when he meets O'Brien and finds that he is a loyal servant of the Big Brother. O'Brien uses a special device that causes incredible pain to "re-educate" Winston, make him love the Big Brother and adopt all the Party's false dogmas. Winston resists and he declares that despite the fact that, under torture, he has betrayed everything he valued and believed in, there is one person that he is still devoted to: Julia. But here, Orwell depicts the Party's endless possibilities to monitor the thoughts of each citizen in Oceania. The Party knows exactly what Winston fears most, though it is a secret for Winston himself. O'Brien puts a swarm of rats in front of his victim's face and, driven to panic and horror, Winston finally cries: "Do it to Julia! Do it to Julia! Not me! Julia! I don't care what you do to her. Tear her face off and strip her to the bones. Not me! Julia! Not me!"
The novel ends with a description of how Winston is sitting in a cafe, drinking gin. Sometimes he meets Julia occasionally, but they dislike each other now because they know that both of them are traitors. Winston looks at the screen, where an announcer gladly informs everyone that Oceania has won the recent war, and he understands that he now loves the Big Brother. The system managed to break and completely remake Winston.
Reference
Orwell, George. 1984. London: Penguin Books Limited, 2005. Print.
Did you like this guide / sample?
Sign up and we'll send you ebook of 1254 samples like this for free!
80+ essay types
1000+ essay samples
Pro writing tips
Related Writing Guides
Writing a Summary Essay
There are two basic types of summaries: a reader summary, that you compose to develop a better understanding of what you have read, or a summary essay, which is written for others and is an overview of an original text. The point of writing a summary ess...