Su 27 Mig 29 Comparison Essay
While the F-15 Eagle is an older design, its advantages — particularly avionics — put the Su-27 at a huge disadvantage. Russia has other planes in the Flanker family (the Su-35), but they are few and far between.
So, how might the engagement between four United States Air Force F-15s and four Su-27s from BadGuyLand go?
Well, the F-15s would probably detect the Su-27s first. Once in AMRAAM range, the Eagle pilots will open fire, most likely using two missiles per target. The Flankers would be obliterated.
If it got to close range, though, the engagement is likely to be a lot less one-sided. Here, the AA-11 and AIM-9 are equal, and both planes can pull 9 Gs.
The skill and training of the pilots will be decisive. In this case, we will assume that the Flanker pilots weren't quite trained well and some were selected for their political liability. In this mix-up, the Eagles shoot down three Flankers for the loss of one fighter - the first F-15 lost in air-to-air combat.
Either way, though, it is a safe bet that the F-15 still comes out on top.
You don't happen to see a Su-27 Flanker dogfighting with a F-16 unless you visit Area 51. Here are the amazing photographs taken near Groom Lake, on Nov. 8, 2016, U.S. election day.
The photographs in this post were taken from Tikaboo Valley, near Groom Lake, Nevada, by Phil Drake, who was lucky enough to observe a Su-27P Flanker-B dogfighting with an F-16, presumably one of the four Groom Lake based -D models in the skies of the famous Area 51.
Although the quality of the pictures is low (the aircraft were flying between 20K and 30K feet) they are extremely interesting since Flankers operating from Groom are not a secret (they have been documented in 2003 – 2004 and more recently between 2012 and 2014) but have rarely been photographed.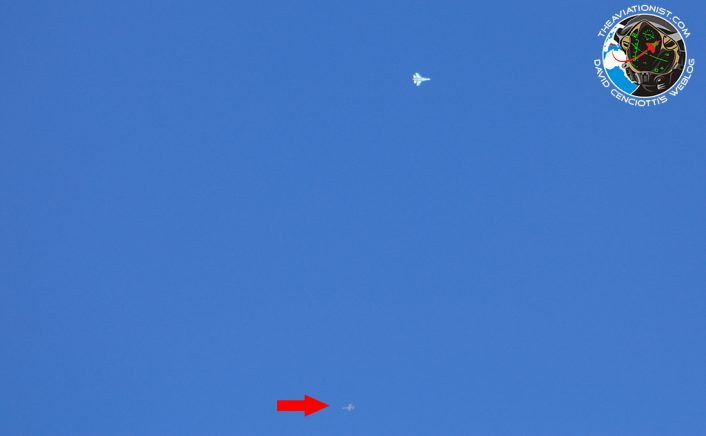 The F-16 (bottom – highlighted) and the Su-27 are flying against each other. Both are on a left hand turn.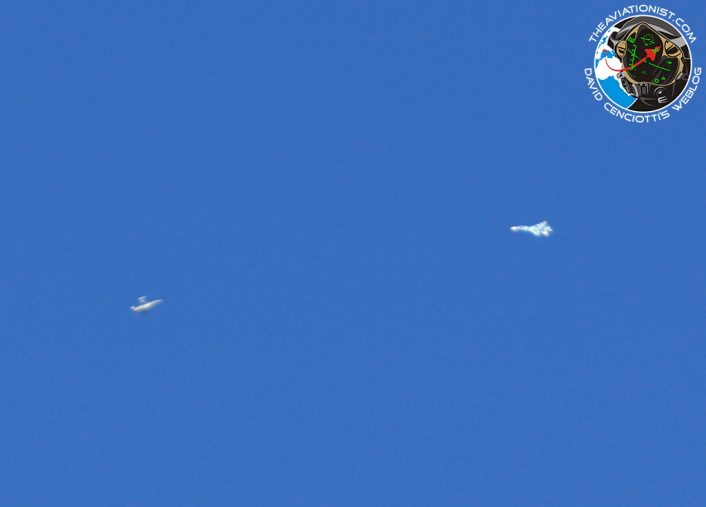 The two aircraft get closer in the merge.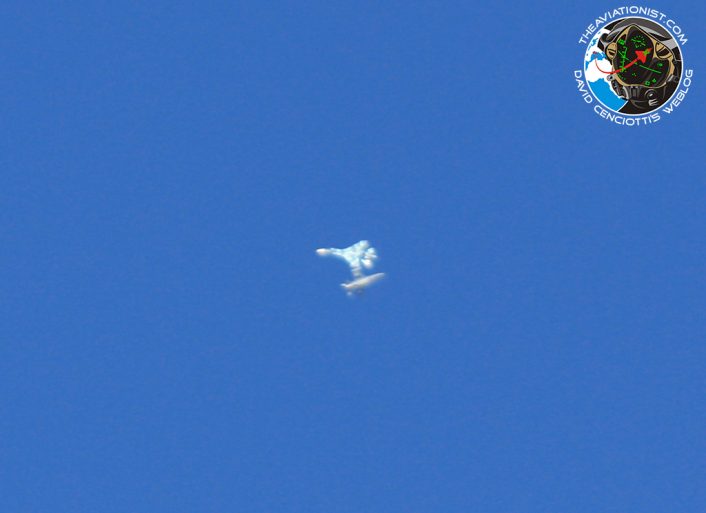 The two jets almost overlap: the Su-27 is farther, the F-16 is closer to the camera.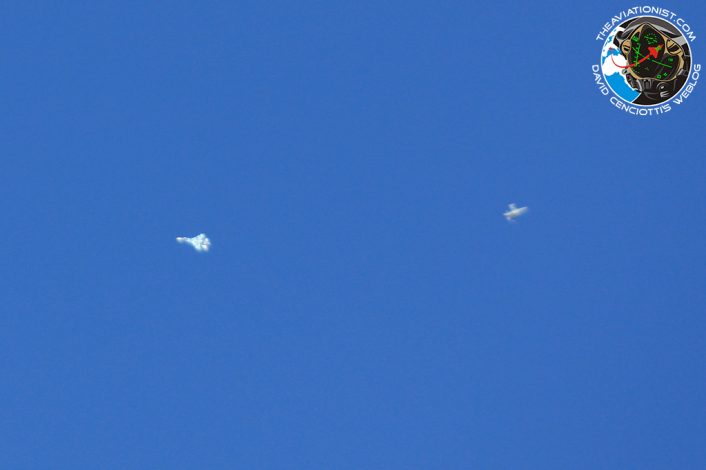 The two jets continue to turn as they try to reach the "enemy" 6 o'clock
Here's Phil's report of the rare sighting:
"The date was November 8th, US election day, and the sighting was between 1500 and 1525.
I was visiting Nevada hoping to catch a glimpse of some of the latest defense programmes being tested.
On the Monday and Wednesday, Nellis Aggressor F-15s and F-16s were regularly overhead, dropping flares and sonic booms.  It was Tuesday afternoon when the skies went quiet for a couple of hours, and I hoped this may be a sign of something unusual being flown.
Eventually the sound of jet noise caught my attention, and I scanned the clear blue skies 'til I saw the tiny speck of an approaching military jet at high altitude, leaving an intermittent contrail.
It was instantly recognisable as a Russian built Sukhoi 27 Flanker, and carried no national insignia or identifying marks.
I took my camera out and photographed the ensuing dogfight between the Flanker and a F-16.  The sortie seemed to consist of a head on intercept, conducted at descending altitudes from 30 down to 20 thousand feet, and after each intercept a turning dogfight ensued after they had flashed past each other.
The highly manoeuvrable Flanker was a single seat version, a Su-27P, and it pulled out all of its best moves to get behind the F-16.
I watched in awe as the pair fought it out for 25 minutes before they both climbed to altitude and flew back into Groom Lake restricted airspace.
My scanner remained silent throughout the whole encounter."
What they were testing is difficult to say. We can't even be sure the Flanker was one of those reportedly flown from Groom or a privately owned one rented to perform some sort of testing. So all we can say is pure speculation.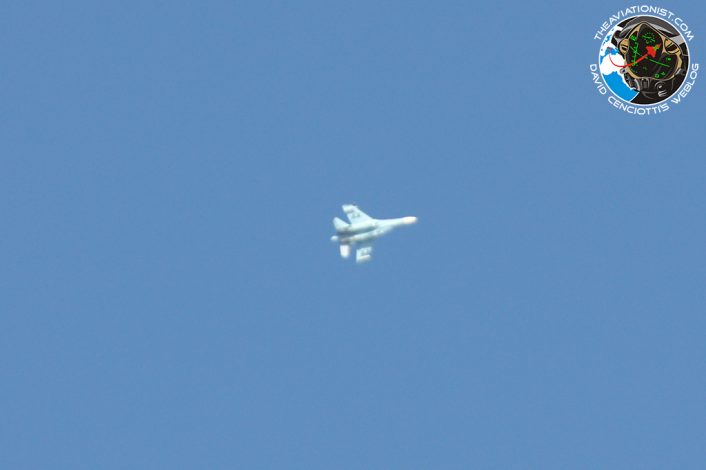 Su-27 turning left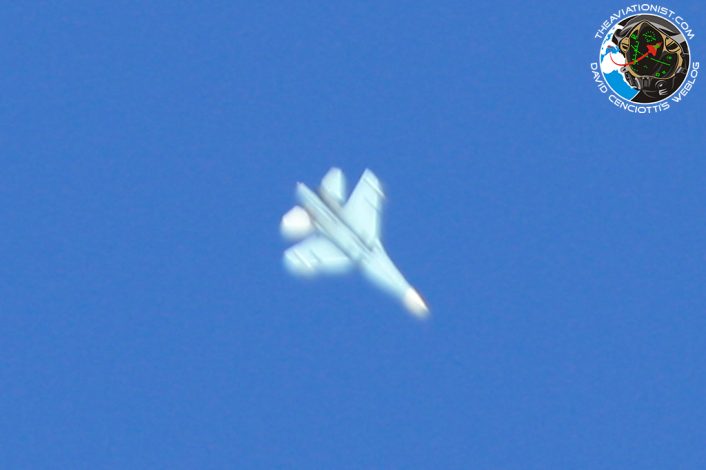 Bottom view of the Su-27
It was a daylight operation therefore, unless they were trying to assess the visual appearance of a Su-27 in standard Russian Air Force scheme under a specific angle at a certain altitude and so on, it was, most probably, something not related to a "black project" that would be carried out at night, when spotters (that have become a common presence around Area 51 and Tonopah Test Range) would find it hard to ID the types involved and understand what's happening.
The daylight dogfight could be related to testing of a specific pod and sensor against a type of aircraft usually replicated by the Aggressors when involved in Red Flag exercises: the F-16s of the Aggressors Squadrons replicate the paint schemes, markings and insignas of their near peer adversaries. In 2014, Lt. Col. Kevin Gordon, 64th AGRS commander, explained the Su-27 Flanker was the type of aircraft they replicated when attacking a Blue Forces F-15 in what was the first time the Flanker was mentioned as an enemy aircraft.
Anyway, the U.S. armed forces have been operating MiG and Sukhoi jets for decades.
In the late 1960s, CIA, U.S. Air Force, Navy and several other agencies were involved in highly classified programs whose purpose was to evaluate MiG fighter jets and study the best ways to face them in air-to-air combat.
Among these programs, "Have Doughnut" was aimed at exploiting a MiG-21 Fishbed-E that the U.S. acquired in 1967 from Israel that had obtained it in Aug. 1966, when an Iraqi Air Force pilot flew it in Israel during a training sortie that was actually a pre-arranged defection.
Have Doughnut saw the MiG-21, using cover designation YF-110, fly over Groom Lake against F-4, F-105, F-111, F-100, F-104, B-66, RF-101, RF-4 and F-5 during offensive and defensive missions that gave the evaluation team the opportunity to assess the effectiveness of the U.S. air combat tactics.
Half a century after "Have Doughnut" some Russian planes, in this case a camo Su-27, are still used for some sort of testing and training in the U.S.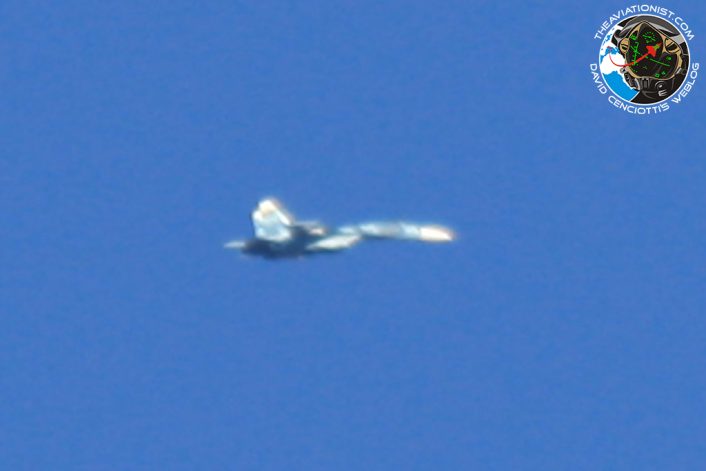 Su-27 side view.
By the way be sure to visit Phil Drake's blog at http://area51trips.blogspot.co.uk.
It has some of the Sukhoi pictures, and also some of a Groom Lake MiG-29 taken in 2009!
Image credit: Phil Drake
Related articles
Salva
Related
Tags:Area 51, Have Doughnut, Su-27 Flanker, U.S. Air Force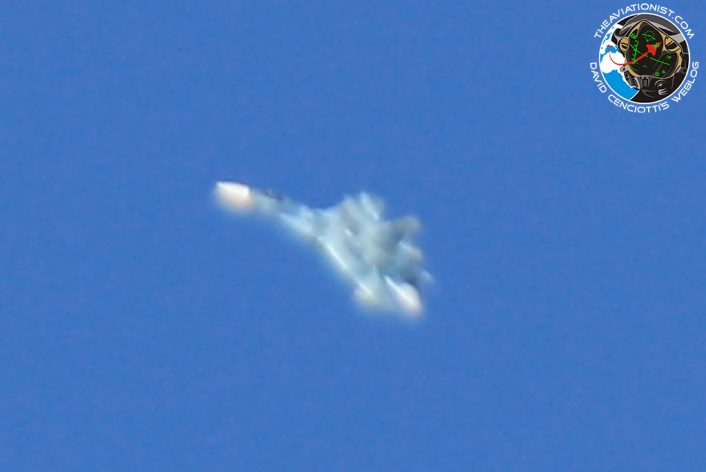 Su-27 turning towards the camera.
Can you ID what pod is this Su-27 carrying?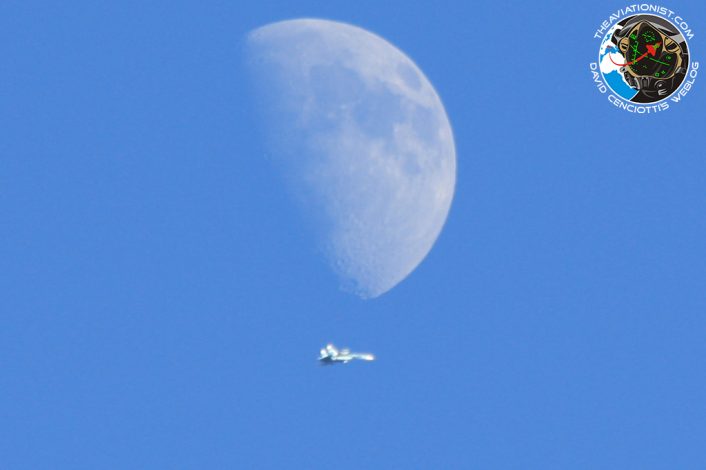 Su-27 and the Moon