Critical Thinking For Business Students 2 Espn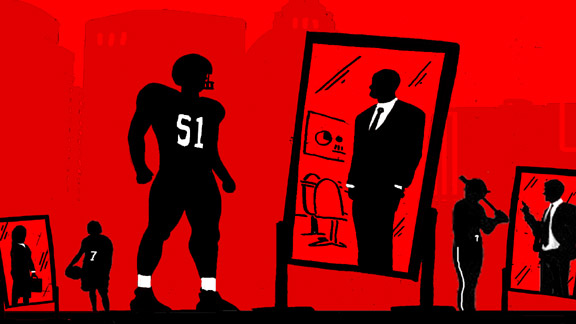 Kurt Snibbe/ESPN.com
You know the stereotype: Since the beginning of secondary education, the "nerds" have looked condescendingly at the "jocks," knowing that eventually the athletes' inability to perform academically would allow the non-athletes to rise to the top of society.
The rivalry has provided comfort to nerds for ages.
From ancient Greece …
Sure, he can pin a man twice his size in pankration, but can he configure and operate a watermill? I think not.
… to the Middle Ages …
Oh, I'd rather spend my time on the cutting edge of the scientific method than wasting it on a horse with that mindless joosting pole, or whatever they call it. Jousting stick? How silly.
… to the present day …
Like, seriously, he thinks he's so cool with his football jacket and pep rallies. In a few years I'll have gone to college, dropped out to my parents' disappointment and started my own business like that dude from "The Social Network." That'll show 'em.
… It's been a universal stereotype that athletes don't grasp their education the same way non-athletes do.
But that stereotype isn't accurate, according to a recent study conducted by Dr. Will Barratt and Dr. Mark Frederick at Indiana State University.
The four-year, 250,000-student study measured educational growth in students among all ages, races, genders, majors, backgrounds and school sizes. Instead of looking at GPAs and graduation rates -- which student-athletes perform worse in than non-athletes, according to a number of past studies -- Barratt and Frederick looked at seven intangible academic skills they believe are more indicative of future success in the real world.
Those seven categories are critical thinking, self-awareness, communication, diversity, citizenship, relationships and leadership.
They went into the study hoping to learn more about college kids in general, but they came away tilting their heads at the outliers jumping off the page: the "jocks," who developed more quickly and performed better than their non-athlete schoolmates in all seven areas by their final semester in school.
The study wasn't conducted by former athletes or the NCAA looking to score one for the meatheads, but rather by a couple of doctorate types from the Midwest with little to no interest in sports.
"I'm the faculty member who used to say athletics is a waste of time and it's stupid," Barratt said. "Once I looked at this data, I realized I was wrong. I still don't go to games, but I do understand the educational value behind athletics."
While student athletes enter college at a lower academic level than non-athletes, they progress at almost double the speed and contribute more in those intangible areas, the study says. Barratt and Frederick believe these skills will help them more than their GPA will beyond college.
"We're rather convinced that student athletes are far more ready to face the world than non-athletes," Frederick said. "That, we think, is incredibly good news."
Good news for the jocks, at least.
Less freedom, better performance
The study's findings aren't as much about the athletes as they are about the athletes' college environment, experts say.
When most students go away for college, it's their first time away from the structure of their parents and teachers telling them where to be and what to do. Most high schoolers live by clear-cut rules and constant reminders of their deadlines and assignments.
In college, there's no one making them go to class. No one making them do their homework. No one staying on top of them. The most important adult in many 18-year-olds' college lives is the bouncer at the pub.
But college athletes, between their coaches, academic advisors and strict practice schedule, still maintain the structure that existed in high school.
"They have mandatory study sessions, academic support," says Dr. Michael Gillespie, a Duke philosophy professor. "They spend about 40 hours a week studying, which is twice a normal student."
Gillespie, who's studied sports in American ethical training, sees a number of reasons Barratt and Frederick came to their conclusions.
Athletes learn time-management skills by necessity. Gillespie believes athletes can spend their time in four ways: sport, study, socialize and sleep. And it's only physically possible to do three of those things, unless you were born on Krypton.


They've been forced to learn teamwork under great pressure, which is more beneficial to the students than even some other organizations such as drama or debate team.


Athletes can take orders. They don't argue when told what to do. Gillespie says many of his favorite students are athletes for this reason alone.


They're not shy, and they're not shy about telling other people what to do. "I don't know if I would call that leadership," Gillespie says. "But it's very difficult to get students to constructively criticize others. But it's less so for athletes."


The book "The Game of Life," written by James L. Shulman and William G. Bowen, dissects the NCAA and de-emphasizes the importance of athletics in college. And even those guys admit that student-athletes make about $5,000 more per year than non-athletes.
Many believe that isn't a coincidence.
There are singular cases of these benefits all over the country.
'On our butts every day'
Former Duke star J.J. Redick earned ACC all-academic honors during his junior and senior years at Duke, but he entered school unconcerned with his grades or academic growth. Early in college, he struggled with juggling basketball, school and a social life -- and more often than not, school would rank third in his list of priorities.
"I wasn't as disciplined in basketball, in the classroom or off the court, and it showed," said Redick, a guard with the Orlando Magic.
But the system in place at Duke helped Redick get on the right path, he said.
There were mandatory study hours, teacher reports and a full-time academic advisor whose primary job was to make sure Duke basketball players made grades.
"He was on our butts every day to be in class," Redick said of his academic advisor. "He'd come to study hall, he knew all of our assignments. It's almost like we had an academic coach full-time. Most teams have that, and most schools have that, so that's a huge factor in helping student-athletes."
Suffice it to say, if you can't dribble or throw a ball, you aren't afforded a full-time academic coach.
And your mom not only lives far away, but she believes it when you say you woke up every Monday, Wednesday and Friday of the semester for that 6:30 a.m. astronomy class.
'I don't buy it'
Not everyone is on board with the study's findings. Its methodology for quantifying such impalpable terms as self-awareness, critical thinking and leadership drew some skepticism.
"Let's proceed with caution here," said Dr. Randall Smith, a sociology professor at Rutgers. "These things are pretty abstract concepts they're trying to measure with a pen and pencil. That's OK, and I understand what they're trying to do. There's some stuff here. But I don't know that you can say anything definitive."
None of the professors contacted for this story doubted that athletes do indeed develop faster than regular students, but there are two caveats to that statement: One, student-athletes as a whole begin college at a lower level than the rest of the student population, a fact that Barratt and Frederick conceded. And two, student-athletes are given privileges other students aren't.
Students are afforded the same resources when it comes to tutoring and study-room options, but many non-athletes do not take advantage of them. And athletes on scholarship are given free passes at taking a class multiple times. Ordinary students can take a class twice, as well, but often only at an additional cost.
That decreases some of the school pressure on the student-athletes.
"I've taught so many student athletes, and most of them are good men and women who mean well," says Dr. Earl Smith, a Wake Forest sociology professor. "But at the end of the day, what's on their mind most is the games they play. It's a Saturday morning and they'll say they can't make a makeup test, and I can only do it at this time. But if the coach says meet me Saturday morning, they'll be there."
Telling the NCAA
Barratt and Frederick went to the NCAA with the study, and said the NCAA was overjoyed about their findings. The NCAA is keeping quiet about the results for now, they said, but it may use them in the future.
The study isn't over -- they're still polling more students hoping to gather more information about athletics and some of the other conclusions they came to.
For instance, females are performing much better than males in college, and the difference is even bigger than athletes and non-athletes. And they found that any sort of extracurricular activity -- student government or Greek life, for instance -- helps students the same way that sports do.
The study hasn't changed how much Barratt and Frederick watch or play sports, which is almost never. You won't find them at a basketball game any time soon.
No, they're just a couple of nerds, doing research on the jocks, and finding that by the end of college, the two aren't so different.
Back to Page 2
ESPN Founder Bill Rasmussen '54 Shares Lessons for Success in Business & Life in Ubben Lecture at His Alma Mater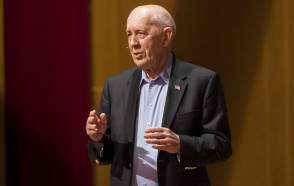 November 8, 2017
"You will remember your days at DePauw, and if you apply (your experiences) and put them into your brain, so to speak, and mix them in there... Oh, the places you'll go," the founder of ESPN, Bill Rasmussen, told an audience at his alma mater tonight.
A 1954 graduate of DePauw University, Rasmussen delivered an Ubben Lecture in Kresge Auditorium. The speech was part of a week-long residency that began Monday and continues through the weekend. The pioneering broadcast entrepreneur is spending time with DePauw students individually and in groups, including sessions with Media Fellows, Management Fellows, and Rector Scholars (Rasmussen came to DePauw as a Rector Scholar).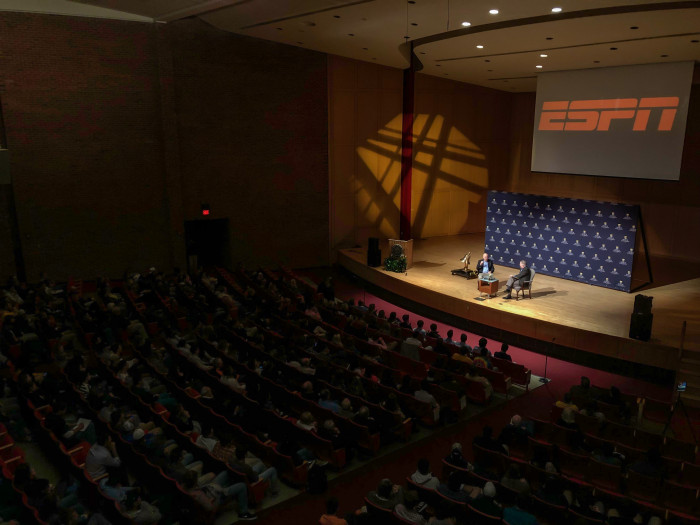 During a program titled "Finding Your Passion, Realizing Your Dream" he told a crowd of 620 that the experiences that are had in the classrooms and living units around campus should be seized, as they are important and life-changing. And change agents ask a lot of questions, he stressed.
A DePauw education involves "students helping students solve problems, students going to professors solving problems, and I always got an answer," Rasmussen -- who majored in economics and minored in history -- stated. "I don't think there was ever a door closed in a professor's office while I was here if there was a question to be asked ... And the camaraderie and loyalty of alumni is amazing."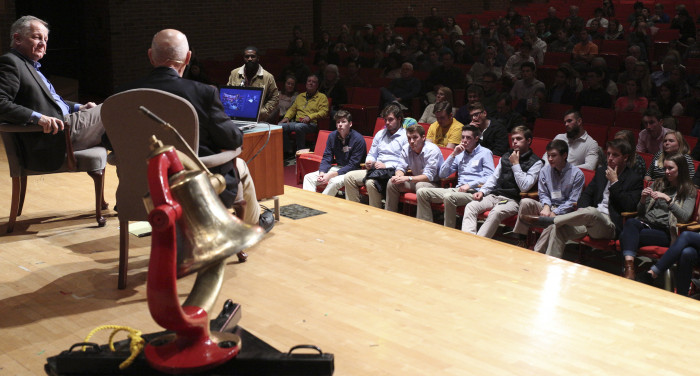 He urged students to take advantage of the opportunities they have on and off campus, stating, "One thing that I learned at DePauw is that you can learn as much as you want or as little as you want; you can take advantage of all of the assets that are here, or you can ignore some of them. I wanted to know everything about everything."
Rasmussen recalled, "Every class we went to we could ask anything and the basic answer was, what do we want to do? Where do we want to go?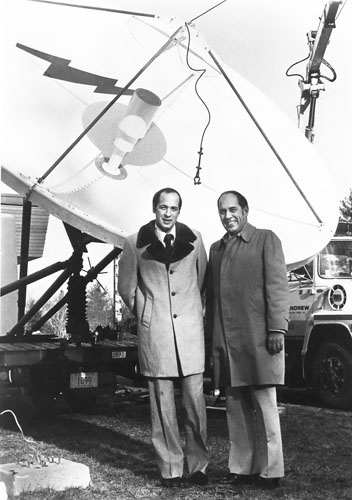 The professors that we had then would help" in getting to the bottom of questions and developing a sense of curiosity among their pupils.
Rasmussen spent time looking back on the founding of ESPN, which signed on in 1979 and was co-founded by his son, Scott, a 1986 DePauw graduate. "The pieces just fell into place. We just kept saying, 'What about?, Can we do this, can we do that?'"
Rasmussen took the idea for a 24-hour sports network to investors are received seven rejections, yet remained confident. "Some people say 'no'. When they tell me no, I think they made a mistake, I don't think it was a bad question."
His eighth pitch, to Getty Oil, led to the realization for his dream.
Looking back almost 40 years, Rasmussen said that in the late 1970s the idea of broadcasting around the clock was viewed as radical thinking.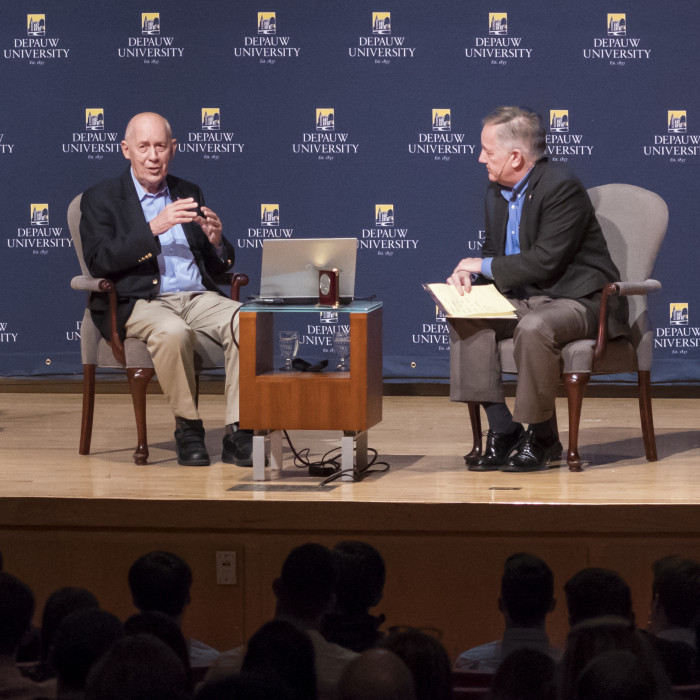 "Television then was New York-centric. If it didn't fly in New York they didn't really care about the rest of us. And they figured everyone in the eastern time zone was asleep by one o'clock, so (they signed off).
"So we started at seven o'clock. We went through to five o'clock Monday morning, so we went around the clock nearly 60 hours, and nobody had ever done that before."
During the talk, Rasmussen encouraged today's students to dream big and pursue their ideas. "Anybody who thinks everything that can be invented has been invented is wrong. That's not the way it works .. Any idea you have, try it. If it works, great, if it doesn't work, drop it and move on."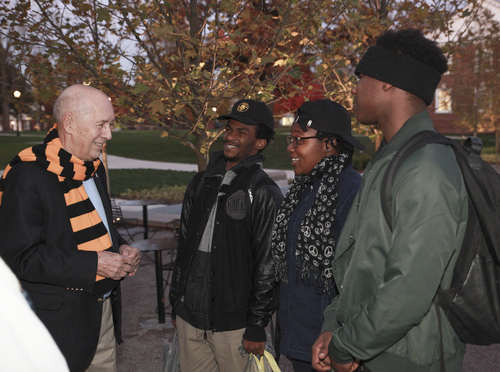 The program, which was moderated by Ken Owen '82, special adviser to the president, took place with the Monon Bell on stage. At the conclusion of the talk and a question-and-answer session with students in the audience, Rasmussen gave the winner's trophy in the annual DePauw-Wabash College football rivalry a good pull.
The Bell became the victor's prize in 1932, the year Rasmussen was born. But the Tigers were 0-4 during his students days; he later said it was his first time ever ringing the Bell.
Rasmussen will be in the Blackstock Stadium stands for Saturday's 124th Monon Bell Classic.
The evening concluded with a book signing in the Great Hall of the Green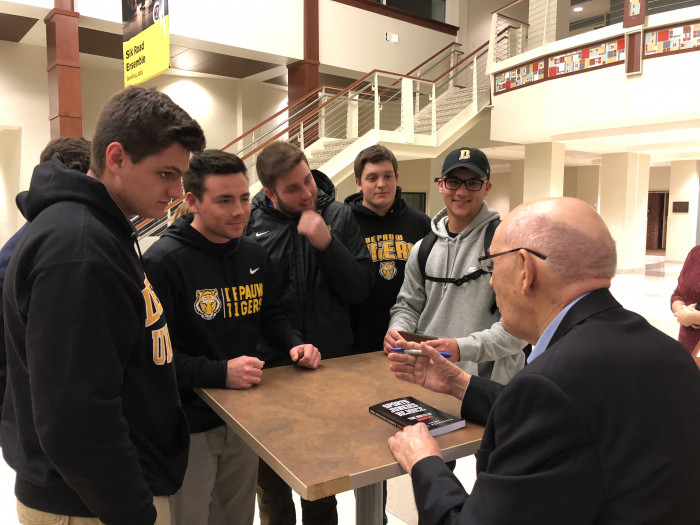 Center for the Performing Arts, where Rasmussen spent about an hour meeting with audience members. He authored Sports Junkies Rejoice! The Birth of ESPN.
Established in 1986 through the generous support of 1958 DePauw graduates Timothy H. and Sharon Williams Ubben, the Ubben Lecture Series was designed to "bring the world to Greencastle." The series has now presented 109 events over the past 31 years.
Malala Yousafzai, the youngest-ever recipient of the Nobel Peace Prize, spoke on September 4, and became the youngest-ever Ubben Lecture; Rasmussen is the oldest speaker the series has hosted. The next guest will be announced soon.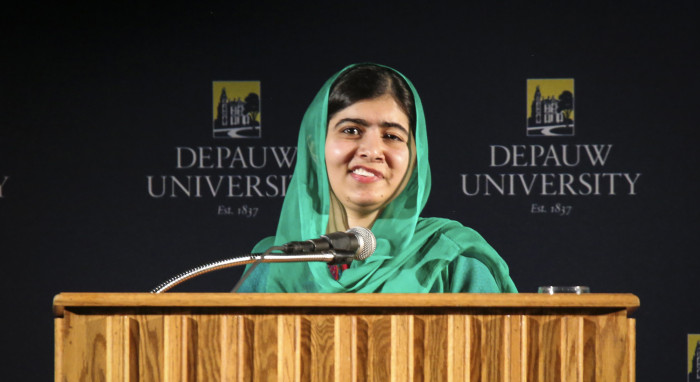 Other previous Ubben Lecturers have included Benazir Bhutto, Margaret Thatcher, Mikhail Gorbachev, Elie Wiesel, Jane Goodall, Tony Blair, Bill Clinton, Jimmy Kimmel, Shimon Peres, David Brooks, Spike Lee, Doris Kearns Goodwin, Mike Krzyzewski, Julian Bond, General Colin Powell, Andrew Luck, Michio Kaku, Piper Kerman, Oscar Arias, Barbara Bush, Ambassador L. Paul Bremer, General Wesley Clark, Jimmy Wales, Todd Rundgren, Bob Woodward, Greg Mortenson, Ken Burns, Ron Paul, Naomi Wolf, Ross Perot, Karl Rove, Howard Dean, Eric Schlosser, Harry Belafonte, Leymah Gbowee, Sam Donaldson, David McCullough, John Major, Lee Hamilton '52, Ralph Nader, Carl Bernstein, Martin Luther King III, Willy Brandt, Dan Quayle '69, F.W. de Klerk, Jane Pauley, Arne Duncan, Bret Baier '92, Mitch Albom, Brian Mulroney, Yeonmi Park, Candy Crowley, Peyton Manning, Liz Murray,
Jason Reitman, William J. Bennett, Richard Lamm, Jim Lovell, Gwen Ifill, ice cream entrepreneurs Ben Cohen & Jerry Greenfield, Sister Helen Prejean, Bill Bradley, Douglas Hallward-Driemeier '89, David Ho, Allen Neuharth, Andrew Young, Paul Volcker, Jim Alling '83, Paul Tsongas, Nicholas Carr, Rebecca Skloot, Mary Frances Berry, Zbigniew Brzezinski, George Will, Carl Rowan and many others (at left: Karl Rove and Howard Dean at their 2009 Ubben Debate)
To view a complete roster of Ubben Lecturers -- which includes links to video clips and news stories -- click here. Video montages of many events are available on YouTube.
Back